Letter from the program director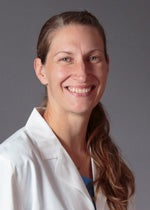 Thank you so much for your interest in the East Carolina University Neonatal Perinatal Fellowship program. Our division offers a 3-year accredited fellowship program for those wishing to train in neonatology. Our program offers an opportunity to care for neonates from across eastern North Carolina as our hospital is the referral center for 29 surrounding counties. This lends itself to unique opportunities including in house resuscitation, transport, premature infants and neonates requiring complicated surgical intervention. The clinical experience also includes exposure to maternal-fetal medicine, cardiology, pediatric radiology as well as follow up clinic of high-risk neonates. Our faculty is dedicated to providing a supportive learning experience. We are committed to training fellows who will go on to become competent outstanding neonatologists regardless of career goals.
Our fellows participate in both clinical and lab-based research projects depending on personal interests and career aspirations. They present at national meetings and publish their work in peer reviewed journals.
Please do not hesitate to contact me with any questions. I hope you will join us as you enter the next phase of your career.
Kelly Bear, DO
Program Director
Associate Professor
Neonatal-Perinatal Medicine