Neonatal Intensive Care Unit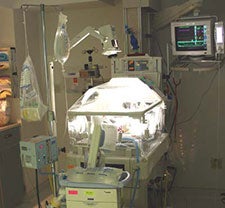 Vidant Medical Center is an 800 bed hospital that serves as the regional referral center for the 29 counties of eastern North Carolina. Contained within the hospital is a 122 bed Children's Hospital, which houses a 50-bed Level IV Neonatal Intensive Care Unit, a 21-bed intermediate care nursery, and a high-risk obstetrical delivery service.
The NICU is staffed by board-certified Neonatologists, Neonatal Nurse Practitioners, Neonatal Fellows, Pediatric and Family Medicine Residents, staff nurses, a neonatal nutritionist, family service counselors, discharge planners and a doctoral pharmacist. We moved into the new state of the art NICU in January, 2005. View images of the NICU.
NICU Statistics (annual)
NICU admissions: 1100
Percentage inborn: 75%
Deliveries inborn: 3500
Deliveries in region: 20,000
Follow-up clinic visits: 400
Services Provided
High frequency ventilation
Inhaled nitric oxide therapy
Therapeutic hypothermia
Pediatric surgery
Cardiothoracic surgery
Developmental follow-up clinic