Neonatal Advanced Practice Providers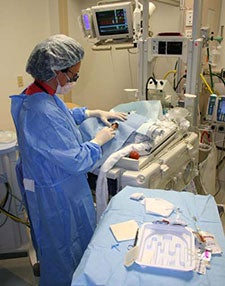 Neonatal Nurse Practitioners and Physician Assistants serve as an integral part of the patient care team in the NICU at Vidant Medical Center. In conjunction with the Neonatologists, the advanced practice practitioner group provides direct patient care to a wide variety of complex and critically ill infants hospitalized at Vidant Medical Center. There are three facets to their role, encompassing clinical care, research and education. An NNP training program has existed here for more than 25 years. The Children's Hospital Neonatal Nurse Practitioner Certificate Program was established in 1979, and in January 1999 it merged with the East Carolina University School of Nursing to provide participants with a Masters Neonatal Nurse Practitioner concentration.
Responsibilities
Direct patient care from admission to discharge
Delivery room resuscitation and stabilization
Central Line placement
Participation in transport of critically ill infants
Preceptor site for ECU School of Nursing MSN, NNP Program
Participation in outreach education and workshops
Participation in research projects
Planning the annual Advanced Practice and Transport Conference.
Demographics
20 AAP's on staff
Average experience >10 years
>50% of staff are from Eastern NC
100% of the NNP staff hold NCC certification
Staff rotations include 8, 12, and 24 hour shifts
Protected educational time